The West Suffolk area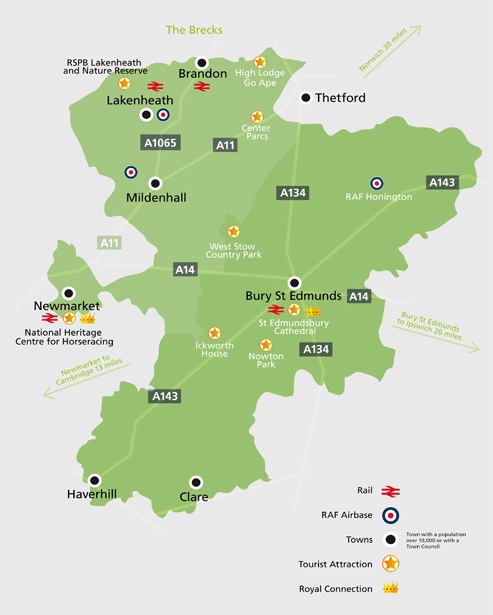 West Suffolk residents enjoy a great quality of life, making it a fantastic place to live, work and bring up a family. The area offers both space, peace and quiet in its beautiful countryside locations, but also buzz and activity in its forward-looking towns, and an innovative and entrepreneurial spirit in its thriving small business sector. Housing is relatively affordable, and local areas are safer than the UK's larger towns and cities. Young people attend good quality schools, and can access a huge range of clubs, sports and activities.
Bury St Edmunds, the main town, was this year ranked the best place to live in the East of England by the Sunday Times, with over 80 restaurants and cafes and high end shops, as well as a thriving cultural scene. The annual Christmas Fayre, Regency Theatre Royal, stunning Ickworth House (National Trust) and Abbey Gardens make Bury a popular tourist destination. Other popular destinations in West Suffolk include Newmarket – the Home of Horseracing and Center Parcs, near Brandon, as well as a range of smaller towns and villages, such as Mildenhall and Clare.
Proximity to Cambridge, to the west, has led to a growth in science-led innovation around Haverhill and our other towns. Cambridge, Norwich, Ipswich and North London are all accessible within an hour by car, and there are regular train services from Bury St Edmunds station.