A culture of learning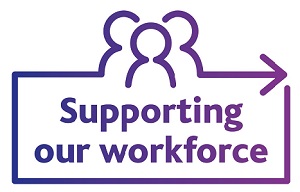 'Building an engaged and energised workforce where different ideas are valued, ensuring that we know, support, empower and trust staff to effectively deliver, while being inclusive in all we do.'
All new employees receive an effective and thorough induction, equipping them with the knowledge they need about the council and their service to make a successful start in their role. There is access to a wide range of opportunities to enable them to learn, develop and progress their careers.
Our performance development review (PDR) process provides a platform where staff can identify, discuss and review learning opportunities and projects to support their continuing development.
Our extensive corporate training programme offers all staff the opportunity to attend courses such as ICT skills, growth mindset, emotional intelligence, resilience, presentation skills and many more appropriate and relevant topics. As part of our commitment to wellbeing in the workplace, we also deliver a number of workshops to support staff's health and mental wellbeing.
Take Time to Learn
We expect staff to be committed to their own learning and to develop themselves so that we continue to deliver high standards of service for our residents and communities.
We inspire our staff to develop a mindset that focuses on continuous learning, where they are encouraged to take ownership and personal accountability of their own development.
We expect a commitment of a minimum of one hour a month to:
learn new skills
update current skills
share knowledge and experience
These can be achieved in any format that fits around their role and learning style. This is monitored and reviewed at regular one to one meetings and via our performance review process.
Leading Together
We focus on developing our leaders and managers, supporting them in building their knowledge and skills so that in turn they can enable their staff to take advantage of the opportunities and tools available and commit to continuous learning.
All our leaders and managers are required to attend specific workshops throughout the year to attain our leadership behaviours, which are to:
be authentic
be visible
engage with others to understand
lead with integrity
be enquiring and challenging
We encourage and support our staff at all levels to undertake work-based apprenticeships and other development opportunities in a range of subjects to gain accredited professional qualifications.