Equal opportunities
West Suffolk is committed to equality and diversity. All employees and applicants for jobs will be considered on their abilities and will not be discriminated against on the grounds of age, disability, employment status, gender, gender identity, marital status, membership or non-membership of a trade union, nationality, political belief, race or ethnic origin, religion or belief, sexual orientation, socioeconomic status.
As part of this commitment we undertake equal opportunities monitoring of our workforce and also of applicants for jobs to enable us to evaluate the effectiveness of our policies and procedures.
The equal opportunities information supplied on the application form will be treated as confidential and will be handled in accordance with the requirements of the Data Protection Act 2018 and the General Data Protection Regulation (GDPR). For further details of how we use any personal information we ask you for when completing your application form please refer to the HR Privacy Notice.
Disability Confident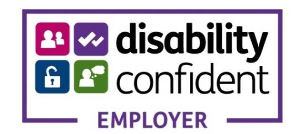 West Suffolk is an accredited Disability Confident employer which demonstrates our commitment to the employment of people with disabilities. A part of that commitment is that all applicants with a disability will be guaranteed an interview if they meet the essential requirements of the role. If you are applying on this basis please ensure you have specified that you have a disability in the relevant section of the application form.
We endeavour to make reasonable adjustments to enable employees with a disability to perform their duties to the best of their ability. Examples of reasonable adjustments that would be considered are: adjustments to the work environment, allocation of work, flexible working hours, training, modified equipment; and making instructions and manuals more accessible.
If you require any special aids at interview please contact Human Resources as soon as you have been notified that you have been shortlisted.