Graduates
We believe that graduates bring new ideas and a fresh perspective to organisations, which can be hugely beneficial. We understand that universities encourage their students to look at processes and systems with a critical eye, and this attitude transfers well to a working environment such as ours. Therefore, we are committed to developing talent by offering personal development via our corporate training programme and also financially support to undertaking job related professional qualifications appropriate to progress chosen career-paths. 
Public Sector Graduate Programme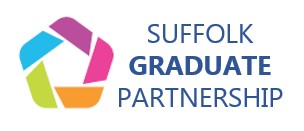 This two-year programme offers you the opportunity to work with and learn from some of the most forward-thinking public sector organisations in the East of England. This programme is aimed at people comfortable working in a fast-paced and evolving environment, who will be able to bring sustainable solutions to the challenges we are facing across Suffolk.
Increasing demand for public services and a complex financial landscape means that the public sector in Suffolk is constantly transforming to ensure it works in new and innovative ways in order to deliver effective and efficient services to the people of Suffolk. There's never been a more exciting and challenging time to be part of the public sector.
Along with a varied and rewarding workload, working in the public sector is a career where you have a real opportunity to improve the lives of tens of thousands of people and work with innovative, like-minded people committed to making a difference.   
During the programme, you will undertake two 12-month placements in locations across Suffolk.
The types of activities you will be expected to undertake might include:
•    providing project support to managers.
•    developing project plans and project management documentation.
•    leading a workstream within a project, and being personally accountable for the delivery of key tasks and activities.
•    producing reports and analysing data.
•    developing and organising community engagement events.
•    contributing to the development and implementation of creative and innovative sustainable solutions to resolve identified issues.
Over the course of the programme, you will learn and put into practice key business skills designed to help you progress and develop your career. You will also complete an accredited Level 4 Associated Project Manager qualification as part of a wider development programme.
On top of a competitive salary, graduates can expect:
•    flexible working benefits.
•    access to the local government pension scheme.
•    the opportunity to be mentored by a Senior Leader.
•    offers and discounts including low-cost travel and shopping.
•    health and wellbeing support.
In order to apply for the graduate programme, you must:
•    have achieved an undergraduate 2:2 degree classification or above in any subject.
•    or be in your final year of study working towards a 2:2 degree or above.
•    you must also be able to work in any of the locations across Suffolk.
Read about Caitlin's own experience on the 2019-21 programme.
More information: