Annabelle - Property Services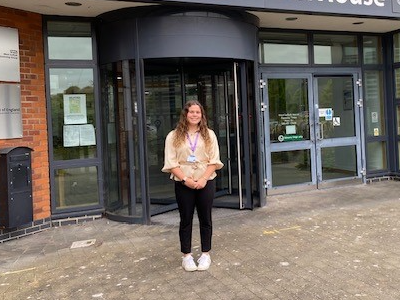 Interning on the property and services team at West Suffolk Council has been a fantastic opportunity for me to learn about a career that I now intend to pursue after graduation. Prior to my placement, I was a second year Human Geography student at Portsmouth University. A property module at university prompted me to investigate an internship in the property industry. During my time with the council, I have had the opportunity to work on a variety of issues and gain a deeper understanding of local governance.
The property and services team oversee a variety of activities within the council, including investment, management, and upkeep of the council's land and property portfolio. The team assigned me a variety of jobs ranging from day-to-day estate management tasks with tenants to involvement in high-profile initiatives such as the creation of a new community hub in Bury St Edmunds. Throughout my placement, I had the opportunity to collaborate with team members which gave me the opportunity to gain a variety of experiences.
Working in local government has given me the opportunity to see the scale of expertise used when working on large-scale projects and creating spaces for the public to enjoy. Seeing how the work influences the shaping and development of towns within West Suffolk has been a rewarding opportunity. I was especially interested in the decision making behind town regeneration and place shaping in West Suffolk.
I was also fortunate enough to attend council meetings and meetings for high profile projects and my role has helped develop my political understanding which I hope to implement into my studies at university. Working at West Suffolk Council has provided me with the chance to witness a variety of roles collaborating to bring exciting developments to the local community with the built environment being a core focus.
Hybrid working allowed me to be flexible with working from home and in the offices. This allowed me to get to know my colleagues whilst also being able to work independently on the tasks assigned to me. The team were more than happy to make me feel included in online meetings and make sure I am aware of what is going on with upcoming projects and meetings.
Completing my internship at West Suffolk Council has been an exceptional experience. Developing my skills and knowledge with experts in their fields has been an invaluable experience to me and my future career prospects. I would recommend interning at West Suffolk Council to anybody interested in this opportunity."