George - Environment and Energy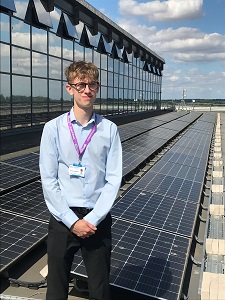 This internship attracted me through its fit to my university degree, Geography and Planning, and the chance to apply theory I have developed into a work environment.
Within my time here, I have carried out multiple projects in the aim of reducing the council's climatic impact. I have done this through implementing changes to our energy sources and uses, whilst monitoring the districts environmental impact. Tasks I have taken up include, identifying suitable wind turbine sites, in the intention to increase the council's green energy infrastructure. I developed skills using GIS for selecting suitable sites based off the successful site criteria I constructed from my research. I followed this up with a written report where I advised the next steps for exploring turbine installations further.
As well as this, I organised and run eco-driver training sessions for members of the council, in the aim of increasing their MPG and reducing the council's business mileage related emissions. I begun the project through liaising with the training providers to find suitable dates for the sessions to run. I then created an intranet advert to promote the sessions gaining drivers to take part and learn techniques to increase their MPG. Following the sessions, I took feedback from drivers and results from the trainer and updated the Environmental Management Group on our achievements.
Alongside the projects I was doing within the Energy and Environment team, I partook in our intern project - Enhancing the Biodiversity of Public Green Space. We were tasked with identifying five sites within the district to rewild, with promotion materials to aid with the awareness of the positives of rewilding. Following those objectives, we wrote a report where we outlined our site selection methodologies, promotion choices and how the project should be implemented.
I have had a great experience at West Suffolk Council and would recommend this internship to other students looking to gain a strong understanding of how public bodies operate whilst learning work-based skills, which are transferrable to your university studies and future.