Katie, Economic Development
What is your role?
My role is Events Apprentice in the Economic Development team.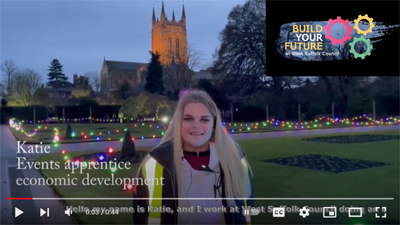 When did you start here?
I began working in November 2021 and I am due to finish my apprenticeship in January September 2024.
Why did you choose to do an apprenticeship?
As well as gaining a qualification it is the perfect opportunity to earn and learn in the work environment. I always knew college wasn't going to be for me after I completed my GCSEs, so an apprenticeship has always appealed to me and luckily I was offered one I have a keen interest in.
Did you come with GCSEs or A levels?
I began this apprenticeship with nine GCSEs but didn't complete A levels.
Did you have a clear idea of what you wanted to do?
No, I left school completely clueless on what to do next. I started a Business Administration apprenticeship but realised this wasn't for me. After being involved with events over the summer, I quickly learnt my love for it and knew this is what I wanted to pursue my career in, so when the opportunity for this apprenticeship cam up, I knew I had to apply.
What did you know about the council before you joined and what you learnt about it so far?
I knew they provided services to the local towns, but I was never aware of the diversity in roles, there is something for everyone.
What apprenticeship are you undertaking, and do you have future plans?
I am currently undertaking a Level 3 events apprenticeship, once I have completed this, I hope to go on further and pursue my career in events. What do you enjoy about working here?
I like that the council is flexible with hours and offer staff as much support as possible. I work with a very welcoming and friendly team, which I am very grateful for.
Apart from your apprenticeship, have you had other opportunities to learn and develop, job-shadow or to be involved in different projects?
Over the Christmas period I was lucky enough to be involved in a new event, IlluminAbbey. It helped me grown in confidence and gave me the opportunity to be part of a new event for the community.
What advice would you give to future applicants?
An opportunity like this doesn't come around very often, if you are considering an apprenticeship with this council, I would say go for it! Try not to feel to overwhelmed by the idea, there are so many people around to support you.