Lydia - Planning Development
I applied for this internship during the second year of my degree studying Geography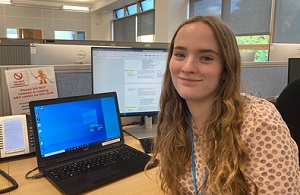 at the University of Birmingham because I had really enjoyed the planning modules I had taken and wanted to see how the planning process works in practice. I am so thankful that I did since I have had an amazing experience that I would recommend to anyone! During the 12 weeks working in the Planning team, I have had the opportunity to experience a whole range of opportunities within my role, as well as working alongside some lovely people. My main project I was tasked with was to update the local planning validation requirements. These requirements are supporting information that need to be submitted alongside planning applications to ensure they are valid, which meant communicating with numerous teams across the council. This gave me a useful insight into the roles that different teams carry out and how local government works as a whole.
I have also had lots of opportunities to go out on site with planning officers to major applications, as well as smaller householder applications. I really enjoyed this because it allowed me to visualise how proposed plans will come to life if accepted. This was useful for when I was tasked with writing reports for a few householder applications, which I found a challenging but interesting experience. As a result of this, I now have a great understanding of how planning policy is implemented across West Suffolk.
Aside from my work in the Planning team, we were given an intern project relating to enhancing biodiversity across West Suffolk. We were tasked to pick five sites in each of the major towns to 'rewild', with an important focus on educating communities on the importance of a less intense maintenance regime. We decided to do this by creating a website, leaflet, and site sign. This was a really fun project and a great way to connect with the other interns.
I have really enjoyed my time here at West Suffolk Council! The internship has been an incredible experience and we couldn't have been more welcomed and supported by the council. I have no doubt that the skills I have learnt will be invaluable to my future career.