Martha - Environment and Energy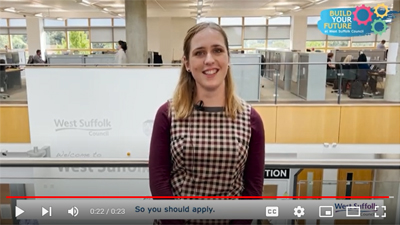 "I was first attracted this internship because of how well it fits with my degree as I am in my second year studying Human Geography and the Environment at the University of York.
Over the course of the 12 week programme I have been involved with a diverse range of projects from air quality testing to marketing. I particularly enjoyed being involved in the Solar for Business scheme. This provides businesses in West Suffolk with free solar panels. The electricity produced from these panels is then sold to the business at a rate lower than their current electricity tariff. This means that the business saves money and their carbon footprint is reduced. As part of this project I used GIS to locate businesses with large roofs who could be potential customers. I then wrote a letter to each business to inform them about the scheme and the benefits it could offer them. Additionally, I created marketing material, tweets and a banner to go on scaffolding with the hope that this would increase the number of businesses who sign up.
Two days every month I was also involved in air quality testing. We would drive around West Suffolk and collect air quality testing tubes for analysis in a lab. This taught me about the air quality testing process and the legislation involved. This allowed me to be involved in creating an air quality FAQ for the West Suffolk Council website to inform residents why we test air quality, the dangers of poor air quality and what West Suffolk Council are doing to improve local air quality.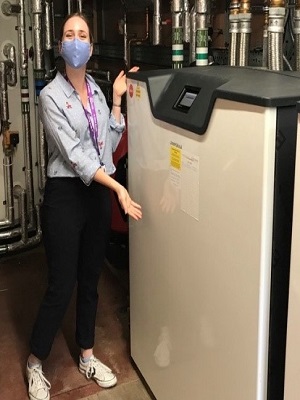 I have also been involved in a number of smaller projects such as creating signage for the ACCESS project in Mildenhall. This is an EU run scheme which uses a smart grid to encourage peer-to-peer trading of electricity. Businesses on the Mildenhall Industrial estate produce electricity through solar panels. Spare electricity can be fed into a smart grid and bought by neighbouring businesses when required. This reduces carbon emissions, saves electricity costs and improves energy efficiency. I also designed a stall for the Bury Green Fair to inform the public of what the council are doing to be more sustainable and let the public know what changes they can make in their life to be more environmentally friendly.
Aside from my work in the Environment and Energy team we were also given an intern project called 'Small Changes: Climate gains'. This required us to create a resource for all staff highlighting how small changes to their working practice can have a positive effect upon the environment and West Suffolk Council's carbon footprint. We created four resources to help do this:
A climate change online training course which is compulsory for all staff to complete.
A video outlining four projects the council are involves in which have a positive environmental impact.
A questionnaire which explores how the council's carbon footprint has changed during the COVID-19 pandemic.
Personal and team pledge forms so West Suffolk Council employees can make a positive impact on the environment. These were accompanied by infographics which outline simple ways employees could reduce their carbon footprint at work and in their home life.
I have really enjoyed my time as an intern in the Environment and Energy Team. I have been supported and welcomed by the council and I have learnt practical skills which will be useful for my future career. I cannot recommend this internship more highly.